something I should have started doing a long time ago.
because I have many "awkwards" throughout my week.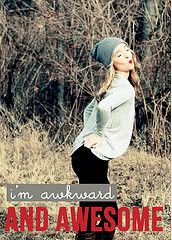 awkward
tripping up on a lamp wire in my bedroom, then looking round to make sure no one noticed.
having someone wolf whistle at me, then see the dog I'm walking and the whistle dies on their cocky, whistling lips. ha. yes, this is a staffordshire bull terrier. whatcha gonna do about it?
typing in 400-100 on the calculator without thinking. guess what it makes? 300. double ha.
flinching every time a fly buzzes past. yeah, I'm cool like that. no, I'm not thinking that it's a wasp or a bee. as if.
so I lied.
shaking way too vigorously the clean washing I brought in. I may have been checking for spiders. then again, I might not.
those awkward pauses on skype.
silence.
using my cellphone light to check the walls for spiders before I go to bed. triple ha.
which makes ha, ha, ha, if you hadn't worked it out.
awesome
me and my sister taking our coffees to our back hill and sitting in the sunshine, talking about nothing.
having a 27 (81 F) degree day in autumn. this is the life.
talking to four people that I hadn't talked to in ages. oh the bliss! I have felt so sociable this week.
having conquered many pages of maths today. it's like victory over sin. victory = me. sin = maths.
me and my sister diy-ing a chair to make it look shabby-chic. ok, so more emphasis on my sister diy-ing the chair. I did help! a little. tutorial on DIY-ing a chair? yes?
looking like an old nana before I go to bed. my dressing-gown, my slippers, tucking my pajamas into my socks, and usually a cup of tea. it doesn't get any better folks.
and just because a post should have pictures....
meet mr. harold the bunny.
hello, beautiful, blue, stringy-cloud sky.
had any awkward and awesome moments this week?